Zones of Regulation
The Zones of Regulation is an internationally-renowned intervention which helps children to manage difficult emotions, known as 'self-regulation'.
At Te Parito Kōwhai Russley School we teach The Zones of Regulation throughout the whole school as a way to develop our students understanding of their own and others' emotions. We want to teach all of our children good coping and regulation strategies so they can help themselves when they experience anxiety and stress. The children learn to understand what zone they are in and how they can go from any zone into the Green Zone.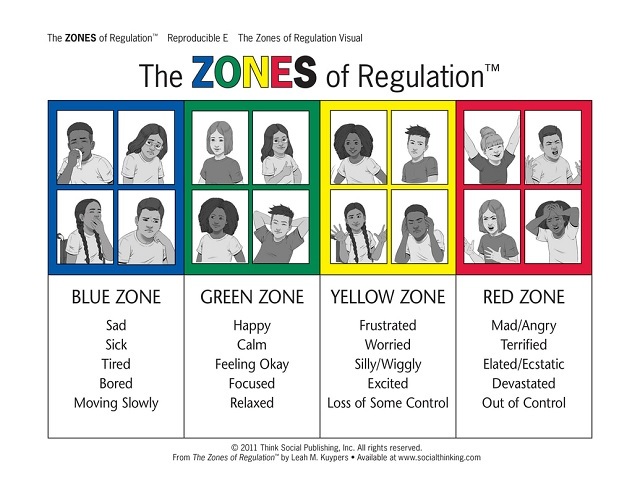 The Zones of Regulation uses colours to symbolise emotions and feelings. There are 4 different zones: Blue, Green, Yellow and Red . There are no good or bad zones to be in; we all experience these zones.

As we focus on the The Zones of Regulation, you can expect the 'Zones' language to be used in class and we would encourage you to experiment with it at home too. Focusing on how people are feeling also enables us to understand the wide range of emotions that exist, apart from the obvious ones of being happy, sad, angry and calm.
click on a Zone for further information
At home you can support your child by asking them which zone they are in. If your child is finding it difficult to name which zone they are in , you can help them by using, "I wonder…" For example, "I wonder if you are in the yellow zone at the moment, you seem a bit worried." It might be helpful to support your child to problem solve what might help them, for example, "I wonder if some colouring might help" or "I wonder if reading your favourite story with me might help."
Online resources that support wellbeing and mental health: