ESOL
We welcome many new students into afternoon ESOL classes. Team Waka students have their lessons on a Monday afternoon. Moana and Awa Nui have their lesson on a Tuesday, while Roto come on a Monday and Tuesday afternoon. ESOL parents are always welcome to attend these sessions.

Our literacy ESOL programme is closely monitored throughout the year and adaptations are made to meet the needs of students. Your child may also be receiving additional help in the classroom.

We are very interested to learn more about art from other cultures in our community. If you would like to share some of your knowledge with us at this time, please make contact with Deputy Principal, Jane Rush to discuss this further.
At Russley School we value our cultural diversity and encourage ESOL students to become literate in their home language and in English language.
We encourage our English as a Second Language (ESOL) learners to discuss, share and celebrate their cultural differences with others within the school environment. We do this by providing a number of opportunities throughout the school year such as, cultural days, shared lunches, class presentations, school visits and talent events.

ESOL Programme
The ESOL programme is a high quality programme that is facilitated by registered teacher Mrs Pam Stretch, and experienced tutors Miriam McCreanor and Donna Sellier. Students who are supported in the ESOL programme come from a number of countries and cultures. Not all ESOL students are born overseas. Some are New Zealand born but their home language may not be English.
ESOL Support
Research indicates that the most effective type of learning support to enhance student achievement is provided when students remain in their own classroom (Quality Teaching for Diverse Students in Schooling: Best Evidence Synthesis, Adrienne Alton Lee, 2003).

The Russley ESOL programme consists of the following :

Teacher aide support within the classroom for reading, writing, speaking, listening.
Additional teacher support teaching and learning programme in all teams allowing for lower adult to student ratios.
An afternoon ESOL programme runs throughout the year that supports the units of work covered in the classroom. Students attend an extra lesson per week that supports their language development in speaking, listening, reading and writing.
Extra targeted teaching is provided for students who have been identified as having a specific learning need.
Foreign Fee paying or International students will also attend ESOL lessons.
Assessment and the English Language Learning Progressions (ELLP)
As well as classroom assessment tools, teachers use the ELLP's to assess where ESOL students sit in relation to the New Zealand Curriculum levels. These progressions provide information on progress and achievement that have been specifically designed for ESOL students.
All ESOL students will receive a Progress Report and an ELLP report twice a year.
Click here to view our programme.
Bilingual Support Worker
Russley School welcomes Panny Tien as a Bilingual Support Worker. Panny is a qualified registered teacher and her role is part of a Ministry of Education pilot scheme. A trained secondary school teacher, she also holds a Master of Teaching English to Speakers of Other Languages.
Panny is passionate about teaching our students and is providing valuable support to our Mandarin speaking children and their families. Working alongside students in the classroom Panny is also available to support with translation and communication between teachers and parents.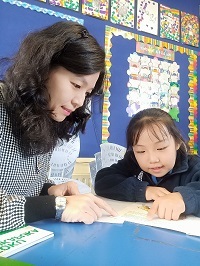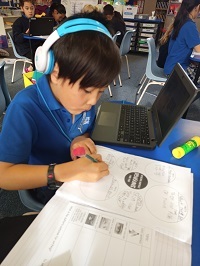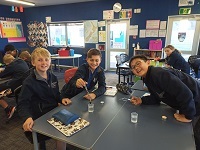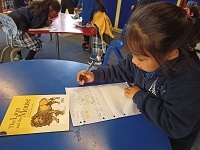 Curriculum Levels Explained
What Are Curriculum Levels?
There are 8 levels in the New Zealand Curriculum (NZC) and stretch from Year 1 through to Year 13. Each level represents a learning stage in each learning area or subject taught.
For example, most Year 1 to 8 students will be learning between curriculum levels 1 to 4. Your child may be at a different level for different learning areas because they may be working at curriculum level 2 in maths and level 3 in writing. Once your child has gained most of the skills, knowledge and understanding of each stage they will progress to the next level.
The diagram below shows how curriculum levels typically relate to years at school. Not all students however, fit this pattern. Students with special learning needs, those who are gifted, and those who come from non- English-speaking backgrounds are examples of these exceptions, all of whom we work hard to cater for at Russley School.
Curriculum levels are used to guide our teaching, assessments and evaluations of learning. You are updated on these curriculum levels via your child's school reports and through discussions you have with your child's teacher. If you are in any way concerned or surprised about your child's level, then do let us know. Please bear in mind that the curriculum level will actually help your child receive the support they need, either as extra assistance in the classroom or in extension work if they are exceeding expectations. For more information visit https://parents.education.govt.nz/primary-school/