New Entrants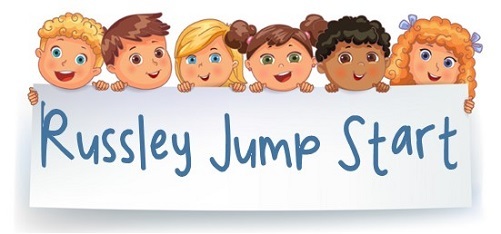 Jump Start is designed to give your child the confidence and skills needed for the best possible start to school. This familiarisation session is a one-hour gathering for four year olds who are shortly due to start here.
Approximately four months before starting school, you and your child will be invited to join us once a fortnight, to spend some time in a junior classroom. Sessions are held fortnightly on Thursday afternoons.
Make sure you have enrolled your child with us so that we know when your child is due to start school and we can contact you.
Starting School At Russley
It is important to arrive at school in good time i.e. 8.45am to ensure your child is settled into the class. Show your child their named peg in the cloakroom so they can hang their coat and bag up together, and come on in to the classroom.

For the first few weeks we recommend children go home at 2pm as they can find the full days very tiring.

When your child first starts school we will get one of their class mates to show them where everything is and when they do things. So don't worry - we will all help them find their way around. Soon they will get to be a buddy for someone else.
Morning Tea and Lunch and Carb Breaks

Your child will need morning tea and lunch every day, so a lunchbox they find easy to open by themselves would be helpful. A drink bottle for water to keep in class is also handy. Students can also order lunches online russley.school.nz/lunch-orders to view how to set up an account and order online.
We have a fruit and drink break for the children each day. We ask that the children have a small piece of fruit, dried fruit or vegetables. This can be the fruit from their lunch but if you wish to send some additional fruit for your child that would be great.
Absences
If your child is going to be away from school you will need to ring the school and let them know. The number to call is 342-7783 or text 027 9161718. Alternatively, download our app - go to the App Store on your Apple or Android device and search "SchoolAppsNZ' to download the app onto your device. Then search 'Russley School' to find our app.
What should students bring to school?
They will need a big backpack to fit all of their things in - it is great if they can have one with a zip they can do up by themselves. We will give them a hook with their name on it right outside the classroom where they can hang up their bag.
Things you should leave at home
Leave toys at home as they will be sad if they get lost. Lollies and chocolate are not food for school days, and are best kept for treats at home.
Your child will take home regular notices with important information for you. Our school newsletter will be emailed and available online fortnightly on a Wednesday. Please ensure the office has correct contact details.