Student Wellbeing

Covid-19 has had a significant impact on how we interact with others, go about our lives, our work, study, and many other aspects of our lives. We know that a combination of stress and uncertainty can have significant and wide-reaching impacts on people's wellbeing. The ways that people think, feel, and behave are likely to change over time – we all have good days and bad days. Listed below are some tools that may help you and your whānau to feel well and get through the difficult times.
How was school today?
Talking with your children about their day at school shows you are interested in what's going on in their lives and that you value school and education. Some kids are full of stories; it can be difficult to get two words out of others. Raising Children Network (Australia) offers guidance on why talking about school is important and advice on getting the conversation started.

Routines Support Resilience
Having a predictable routine can help children feel secure and confident to manage change. All Right? offers tips to get your child loving daily routines, including routine charts for kids of different ages, and advice on incentives.

Coping with worry about the current situation
It is perfectly normal to have anxious feelings and worries in the current Covid-19 pandemic. KidsHealth offers practical steps to help your children, family/whānau, and yourself cope with worry and anxiety about Covid-19.
Mana Ake Northwest Kaiārahi / Kaimahi 2022
Mana Ake provides support to children in Canterbury, in years 1-8 at school, promoting wellbeing and positive mental health. Mana Ake can support children at school and at home and provide advice, guidance and workshops for parents, whānau and teachers.
There is several kaiārahi / kaimahi assigned to Russley School. If you have any concerns around your child please contact Jane Rush, Deputy Principal.
Click here to visit Mana Ake's website where parents and whānau will find up-to-date, quality information on wellbeing and parenting skills.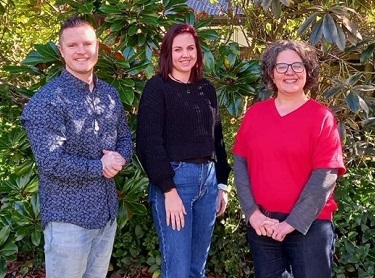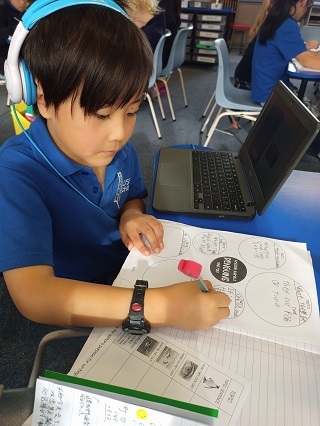 PLAY EAT LEARN

Our new timetable is well underway and a recent review of the new Play Eat Learn timetable has been overwhelmingly positive. . The adjusted morning schedule allows students two opportunities to eat — at 10.00am and 11.20am.
We continue to see improved focus from students during class learning times. Thank you for continuing to pack healthy lunches that provide complex carbohydrate foods for carb break at 10.00am and then again for lunch at 1.20pm.

Some tips to help your child manage their food choices:
Junior children pack carb break and lunch break foods in separate labelled containers.
Talk with your child about healthy food choices and how to manage their food breaks.
Encourage your child to help with the school food preparation.
If packing all food in the one lunchbox, label carb break and lunch break packages.
Attendance
Midway through the year, senior staff review each child's attendance patterns. It is noticeable that during the winter terms especially, some children's attendance has slipped well below what we consider acceptable.
Russley School has an aspirational attendance rate of 95% and above. For a child to fully engage and participate in learning they must be present at school. High absenteeism has a direct impact on learning and motivation, and as a school we are concerned about some children's level of absenteeism.
The school is accountable to the Ministry of Education for the daily attendance of all children listed on the school register. Please work with us to raise your child's attendance.
Calm Down Spaces
Many of the classes this year have introduced calm down spaces. These spaces provide a safe and secure spot that students can go into to use the tools they have been given to help them regulate their emotions. All students have been taught belly breathing and practice it on a regular basis. The more they practice it, the easier it is for them to use when they are feeling stressed.
Clam down spaces have cushions, colouring-in sheets, stress balls, books, oil timers and other objects the students can use. There are also pictures to help them recognise and name their feelings.
Calm down spaces can work really well in the home too. Your child could find a cosy spot in their room and with your help put together some tools that they can use to help them calm. There are many good ideas for calming tools on the Sparklers website.https://sparklers.org.nz/
Positive Education and Wellbeing Initiatives for 2022
For some time at Te Parito Kōwhai Russley School we have focused on developing programmes to support the wellbeing of students and staff, and extending these to the community. This year we highlight two key themes as we look to understand how to grow 'better people' who know about themselves, how to respond to different situations and how to support others. We will use the newsletter to promote these themes as together we try to build school-wide awareness
E Tū Tāngata (Stand Together): E Tū Tāngata is not a programme; it is a mindset, a way of thinking that can be applied to our everyday lives. Three core mindsets provide a common language with which to frame and shift the way we think and speak about ourselves and those around us. This year Te Parito Kōwhai Russley School will fully embrace E Tū Tāngata as a positive education philosophy for our school.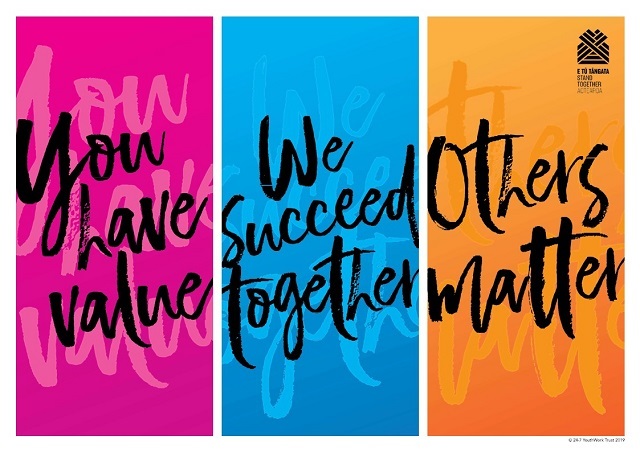 There are three pillars to E Tū Tangata; You have value, we succeed together and others matter. These three pillars focus on, firstly, the importance of an individual person in our society, their strengths, their 'growth' strengths and who they are as a person. Secondly, the value of working together to achieve success; the concept of 'togetherness' (the very essence of Te Parito Kōwhai Russley School) and finally, the concept of looking beyond your group to how you can support others. Visit https:// www.etutangata.nz/info
Zones of Regulation: This framework deals directly with students knowing their emotions and responding accordingly with their actions. Zones of Regulation uses colours to symbolise emotions and feelings. As we focus on Zones of Regulation, you can expect this 'Zones' language to be used in class and we would encourage you to experiment with this at home if you choose to. Focusing on how people are feeling also enables us to understand the wide range of emotions that exist, apart from the obvious ones of being happy, sad, angry and calm.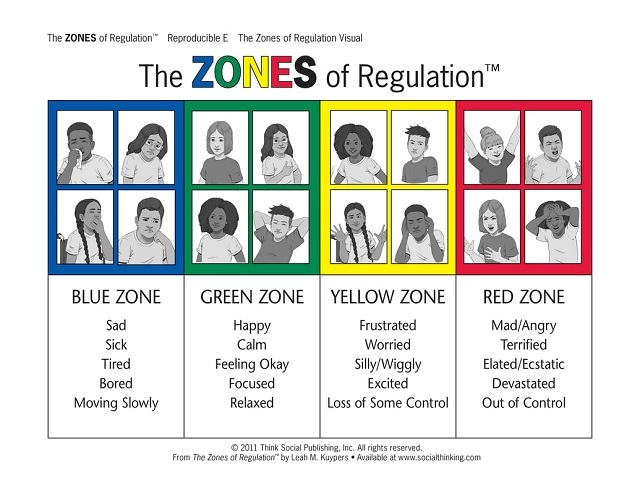 Russley School introduced a Wellbeing Curriculum that focuses on the use of well researched instructional tools that support student wellbeing. 'Relationships and Resilience' is the over-arching theme for the introduction of 'MindUp' a comprehensive, classroom-tested, evidence-based curriculum which is easy to use. It promotes and develops mindful attention to oneself and others, tolerance of differences and the capacity of each member of the community to grow as a human being and a learner. The children learn about their brain and how it works.
The lessons include repetition of the Core Practice - deep belly breathing and attentive listening. These skills must be repeated for a few moments every day throughout the school year. The books are levelled, include previously learned skills/tools and build on prior knowledge activities.
A second resource being used is 'Bounce Back'. This resource teaches social-emotional learning skills that underpin wellbeing and resilience. It uses games, drama, books, activities and Circle Time as vehicles of delivery.
Schools that are using PLAY-EAT-LEARN find that their students eat better if they have played first and are more ready to learn if they have calmed after play with a quiet eating time.

Kathleen Liberty and her team from the University of Canterbury undertook a project called Juniors Settling In and Learning Strategies. This project arose following the Christchurch earthquakes and aims to assist schools to provide calm and settled environments for children to learn effectively.
It has been suggested in Kathleen Liberty's well documented research that to help the children to 'eat to learn' it would be helpful to have a complex carbohydrate that can be eaten during two eating times in the morning before the lunch meal. A mid morning snack of one slice of wholemeal bread will have approximately 28g of complex carbohydrates. Adding a spread increases its nutritional value (marmite, vegemite, peanut butter).
Russley students were introduced to mindful breathing or tummy breathing. This type of breathing is a quick and easy way to engage the body's natural relaxation response. It draws the child's attention away from the present, boosts concentration and helps them turn anxiety and anger into feelings of relaxation and focus.
Younger students were introduced to this practice through a Sesame Street video that features Elmo as the main character. Elmo explains in a fun, interactive way when and how to use tummy breathing. This video can be found online at Elmo Belly Breathing. The older children viewed a video entitled Just Breathe.
We suggest parents encourage their children to tune in to their breathing whenever they feel upset or angry, or want to relax.
In addition, there are online resources at https://allright.org.nz/ that support wellbeing and mental health. You will find Elmo Belly Breathing in the "Sparklers" section and the website also has a useful "Tips for Parents" section.
A much talked about topic in educational psychology is the growth mindset. Stanford University professor Carol Dweck's claims in her book "Mindset: The new psychology of success" that teaching children to have a growth mindset does work and can be developed. Children who have a growth mindset seem to face challenges in a more positive way. They will say things like, "I love a challenge," instead of having negative thoughts when faced with difficulty.
When we have a growth mindset we believe that our brain can be developed and we can grow our intelligence, whereas a fixed mindset is the belief that our brain can't be developed and it is static. Research shows time and again that if a growth mindset is encouraged by teachers and parents, children perform better and see obstacles as opportunities to improve and learn.
Children should be taught not to give up on a task just because they cannot do something immediately. Effort and perseverance are the start to training the mind, in order to achieve, learn and grow. One of the ways adults can encourage this is through the language we use when we discuss challenges with children. Dweck mentions that saying "not yet" to children instead of saying they have failed at something is a much better way to show them that even if they have difficulties overcoming a challenge, the time will come when they will succeed. The use of "you haven't learned it yet" shows that there is a learning curve, and points to the process, not the outcome.
According to the Mindset website, "Every so often a truly ground-breaking idea comes along. This is one." The mindset theory explains:
Why brains and talent don't necessarily bring success and in fact, can stand in the way of it

Why praising/rewarding brains and talent doesn't foster self-esteem and accomplishment, but rather jeopardises them

How teaching a simple idea about the brain raises grades and productivity.
After decades of research on achievement and success, Carol Dweck proposed the Growth Mindset, "a simple idea that makes all the difference."
WATER - THINK TO DRINK, DRINK TO THINK PROGRAMME

Research has shown that children are often dehydrated, and dehydration can affect the growth of their brain, as well as negatively affect their thinking during the school day. Dehydration can contribute to poor concentration, memory and increase impulsive behaviour.
Students at Russley School are being educated on the importance of water to their health. They are given suggestions about why and when to drink water, and about how much water to drink each day. Drink bottles in the classroom ensure children have ready access to water without having to wait for a break time.