E Tū Tāngata
At the heart of E Tū Tāngata, sits a desire for our school, our community and our nation to stand together to improve wellbeing outcomes for tamariki. Through this framework, we encourage conversations in classrooms and the workplace to help develop an understanding of how we can value others and in doing so, contribute to the success of all. We encourage families to join these discussions too.
At Te Parito Kōwhai Russley School, we want to "develop a culture in which we celebrate others' successes, and champion each other in the pursuit of dreams and accomplishments."
E Tū Tangata connects to and enriches our school values. It is a way of thinking that we can apply to our everyday lives. Three core mindsets provide a common language with which to frame and shift the way we think and speak about ourselves and those around us: You Have Value, We Succeed Together and Others Matter.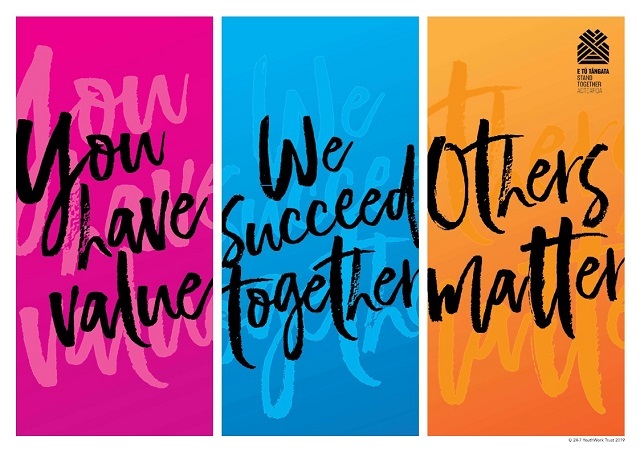 The first principle, 'You Have Value' (He mana toū nō whakatata), asks us to consider ourselves and what reminds us that we have value? We want children to be confident with who they are; to not be scared of failing or succeeding. Knowing as individuals that we have value, makes us feel good about ourselves and gives us a sense of purpose.
With the principle of 'We Succeed Together', we want to encourage students to not only celebrate their own strengths, but to recognise the strengths of others, and to understand that by supporting each other, they will achieve more.
The third principle Others Matter encourages us to take a friend-based approach to others; rather than a fear-based or indifferent approach. At Te Parito Kōwhai Russley School, we encourage children to look beyond their group of friends for ways to show others that they matter. Looking after others at school, in your family/whānau and community is an important way to make tamariki feel safe and that they belong.
"He aroha whakatō, he aroha puta mai" If kindness is sown, then kindness you shall receive.