Newsletter for International Families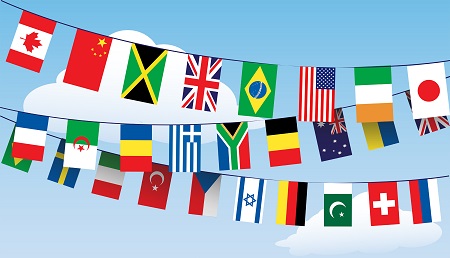 Click on 'Select Language' box to the right of screen to select your language.
BYOD Digital Agreements
The Digital Technologies teaching team has developed an online BYOD user agreement for students and their parents to complete. Currently about 70 students bring their own devices to school and due to increasing online access, the school needs to be clear about students' responsibilities. On Monday 2 July, teachers will email to parents of existing BYOD students, a link to a digital agreement.  We ask BYOD students and parents to talk about these responsibilities and complete the agreement by the end of term 2. For BYOD students in the future, the agreement will need to be completed before they have access to the school network.
Ten Healthy Snacks for Kids
Healthy snacks are important for growing children and busy teens to help them perform better in the classroom, on the sports field and during extra-curricular activities.  Making the right food choices between meals will help provide essential nutrients for growth, boost energy levels and enhance concentration. It will also help kids feel satisfied until lunch or dinner time.
What makes a healthy snack?
Everyday snacks are whole or less-processed foods based on the Healthy Heart Visual Food Guide. They are low in saturated fat, sugar and salt. Remember to ensure portion sizes are appropriate for the age of the child. Larger servings may need to be cut into smaller portions. Nutritious snacks can be affordable, convenient and easy to prepare, they can also be a great way to boost fruit and vegetable intake. Encourage children to get involved in planning and preparing their own healthy snacks.
Simple snacks using vegetables and fruit:
Seasonal fruit kebabs with natural yoghurt
Corn fritters or vegetable scones
Mousetrap or pita pizza made with wholemeal bread, Edam cheese and sliced tomato or capsicum
Snack platter with fruit and vegetable pieces, hummus and plain popcorn
A fruit and bran muffin (eg. banana and date)
Celery sticks with cottage cheese / peanut butter
Egg and lettuce sandwich with wholemeal bread
Smoothie with fruit and/or vegetables
Trail mix with nuts, seeds and dried fruit
Wholegrain corn thins spread with cottage cheese topped with fresh vegetables and fruit (get creative with the decorations and make faces, animals or flowers).
Watch out! Some snacks have a lot of fat, sugar and/or salt and give only short bursts of energy. Limit these  foods to occasional treats. When buying packaged food, read the food label and choose products with less saturated fat, sugar and salt.
Parent input plays a significant role in our school's continued development. There are a couple of consultation surveys that we would welcome feedback on.   Both surveys are mostly 'click' buttons, so it should take only a few minutes. The surveys close on Wednesday 15 August 2018.
Health & PE consultation survey
Russley School is required to consult with its parent community approximately every 18 months about health education programmes.
 Access the Year 1-4 survey here: https://goo.gl/forms/06bwjvUKWVYBwelg1
 Access the Year 5-8 survey here: https://goo.gl/forms/7k6vKbD8RiAYxOEh1
The Year 5-8 survey includes an extra section on outdoor education and in particular, overnight camps. I'm keen to readr parents' level of support and comment on EOTC camps. If you have children in Years 1-4 and in Years 5-8, feel free to fill in both surveys.
Student-led conference feedback
This link https://www.surveymonkey.com/r/FNS2XM6 will allow you to access a quick survey seeking feedback about the recent student-led conferences. 
We will not issue multiple surveys for each year level so if you have more than one child, you need only respond once to provide an overview of the whole process. There is space for you to comment if you wish.
Reports - Reporting will be based on a curriculum level and no longer referred to as National Standards.  Students at Russley work at Levels 1 - 4 (with extension across the levels or above level 4 provided when required).  ESOL reports contain speaking and listening will be going out with the curriculum reports.  
Classroom Parent Representatives - Classes now have a parent representative who will make connections with all parents in that particular room.  This is a way for parents to liaise with each other and offer opportunities to communicate and connect.  Teachers will have different expectations/jobs for their class representatives, depending on the teacher's needs.
Mathletics/Khan Academy - Mathletics is not just a home tool for learning, teachers are using the programme to hone in on specific gaps/needs of students.  Khan Academy has good instructional videos for students to follow.  https://www.khanacademy.org/
If parents/caregivers have any comments or suggestions please email feedback@russley.school.nz
Click here to view our ESOL page
COMING UP
 Fri 10 Aug

 Disco




Yrs 1-4     5.30pm - 6.30pm

Yrs 5 - 8   6.45pm - 8pm 

Mon 13 Aug

Awa Nui swimming next two weeks

Tues 14 Aug

ICAS maths 9am

Wed 15 Aug

SCHOOL CLOSED FOR INSTRUCTION due to primary teachers and principals voting for a full day of strike action

Fri 17 Aug

Pizza orders close 9am

Wed 22 Aug

Ordered pizzas delivered at lunchtime

Thurs 23 Aug

Otago Problem Solving 9am

Mon 3 Sept

ESOL trip to museum

Tues 4 Sept

PTA meeting 7.30pm

Fri 7 Sept

PTA Wheel-athon

Fri 14 Sept

Writers' Walk entries close

Thurs 20 Sept

7pm Russley Music Night